Westchester's makeup artist & hair specialist for weddings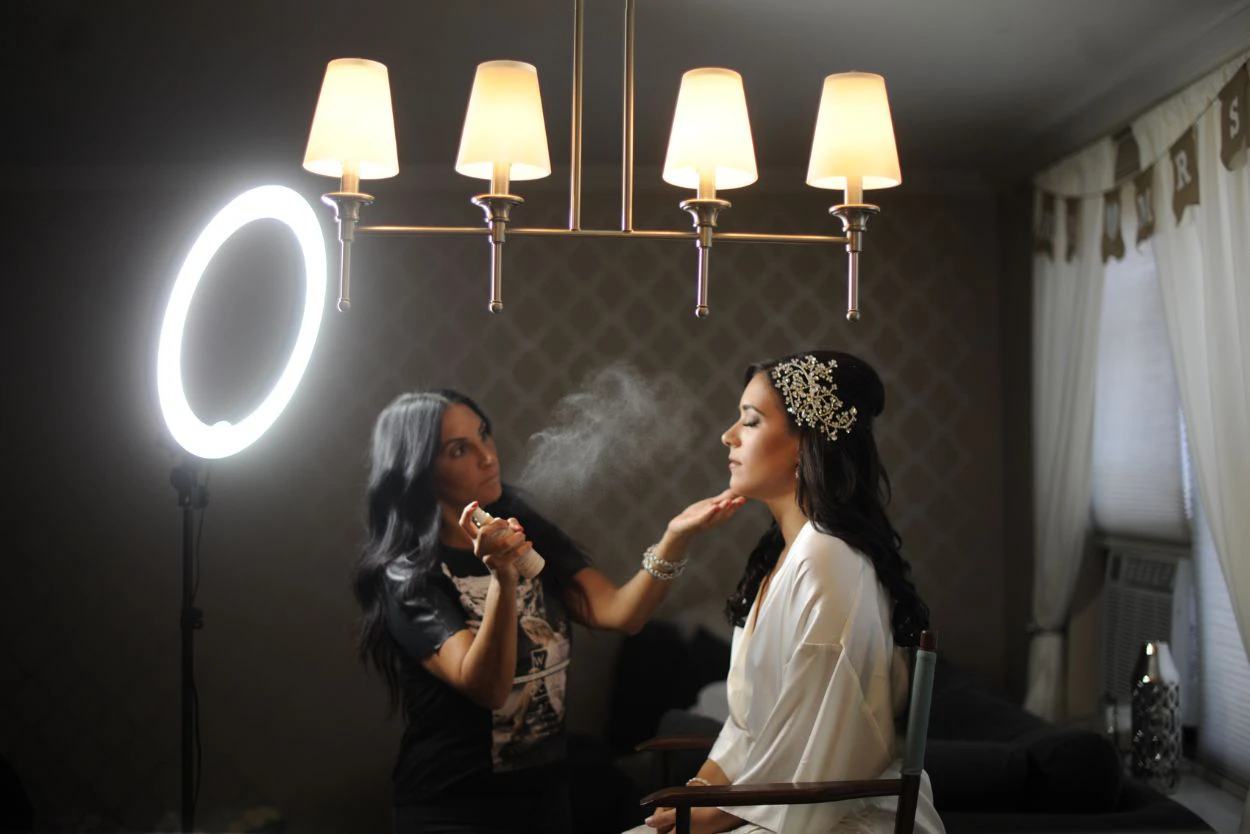 AURELIA
Why I Love Being a Makeup & Hair Artist . . .
I have always loved art. Being around art. Being around color. Even as a child, I couldn't think of anything more exhilarating than having an empty art pad in front of me, surrounded by my large collection of colored pencils & paints. It pretty much started there. I had no idea that my creative gene would lead me to makeup & hair! I studied arts throughout school, but didn't pick up makeup & hair until 2003. That's when I felt my life began.
Applying makeup on faces has been a great way for me to utilize my creativity. Color theory is very important when it comes to makeup, as well as knowing how to play with the balance of light and shadow, highlights and contours etc. It's all applicable to the face & every client that I work with provides me with a new "canvas".
A Little About Myself . . .
I am an entrepreneur who is creative, and daring, and stands out with my work. "I love that I can express myself through makeup & hair and use my creativity without limits!" Most of my life I was born and raised in Westchester, but I can definitely brag about living in Italy and experiencing the culture and lifestyle. I believe that God has given me an artistic gift and I feel very blessed to have established a career in makeup & hair using that gift. I have been working as a makeup & hair artist in Westchester, & the surrounding suburbs for more than 10 years.
I do a lot of makeup application, as well as up-dos, extensions, and special styling for weddings, photo-shoots, and special events. In addition to all of that, I am a trained and certified MAC Pro Artist. I continue to further my education on a constant basis & I am always taking courses that will help me grow as an artist.
A Few Things I Want You To Know . . .
I sincerely care about all of my brides. I can honestly say that each and every bride I work with ends up feeling like a friend by the time we're done with her wedding.  I really consider it a privilege to make sure that my brides feel prettier than they ever have on their wedding day. I don't ever want them to feel as though they can't ask questions, or suggest a change in the makeup I've done. I'm certainly not a diva, and I welcome their input. I do everything I can to ensure that they are happy with not only the end result but also their entire experience. My work is something I take great pride in and I am a self-proclaimed perfectionist. This is not just my career, it is my passion and I strive for that passion to reflect in my work.
What Inspires Me To Keep Doing What I Love . . .
A question I get asked a lot is "What inspires you?" Artists need to constantly be inspired and it's very important that we seek out what inspires us to fuel our art. There are tons of things that inspire me and I find it impossible to only name one or two things. There is inspiration all around us every day. What I love to do is take pictures of anything and everything I find beautiful around me. I am constantly taking photos of people, places, and things on my daily adventures. I can't believe how many photos my iPhone can hold. I just deleted some after finding it hard to scroll through the thousands, yes, thousands of photos I have on it. I'll look through my inspiration bank of photos and feel re-charged. The colors make me want to do something colorful on someone's eyes. It breathes new life into my art.
 All my inspirations come from other well-known artist, blogs and I also read tons of magazines to see what's going on in fashion. But most inspiring is just whoever is sitting in my chair. I'm inspired by personal styles and different personalities and what I want to play up in that person's face.
Achieving My Goals . . .
I am very happy with my career and my success, but I set very high standards for myself. I am constantly reaching the goals I've set for myself and creating new goals to reach. The world of makeup & hair is always changing with new trends, new faces, new formulas, and technologies, so I will always be learning.
I find nothing more inspiring or challenging than to be a part of a creative team where all our ideas collectively make the beautiful work you see here.